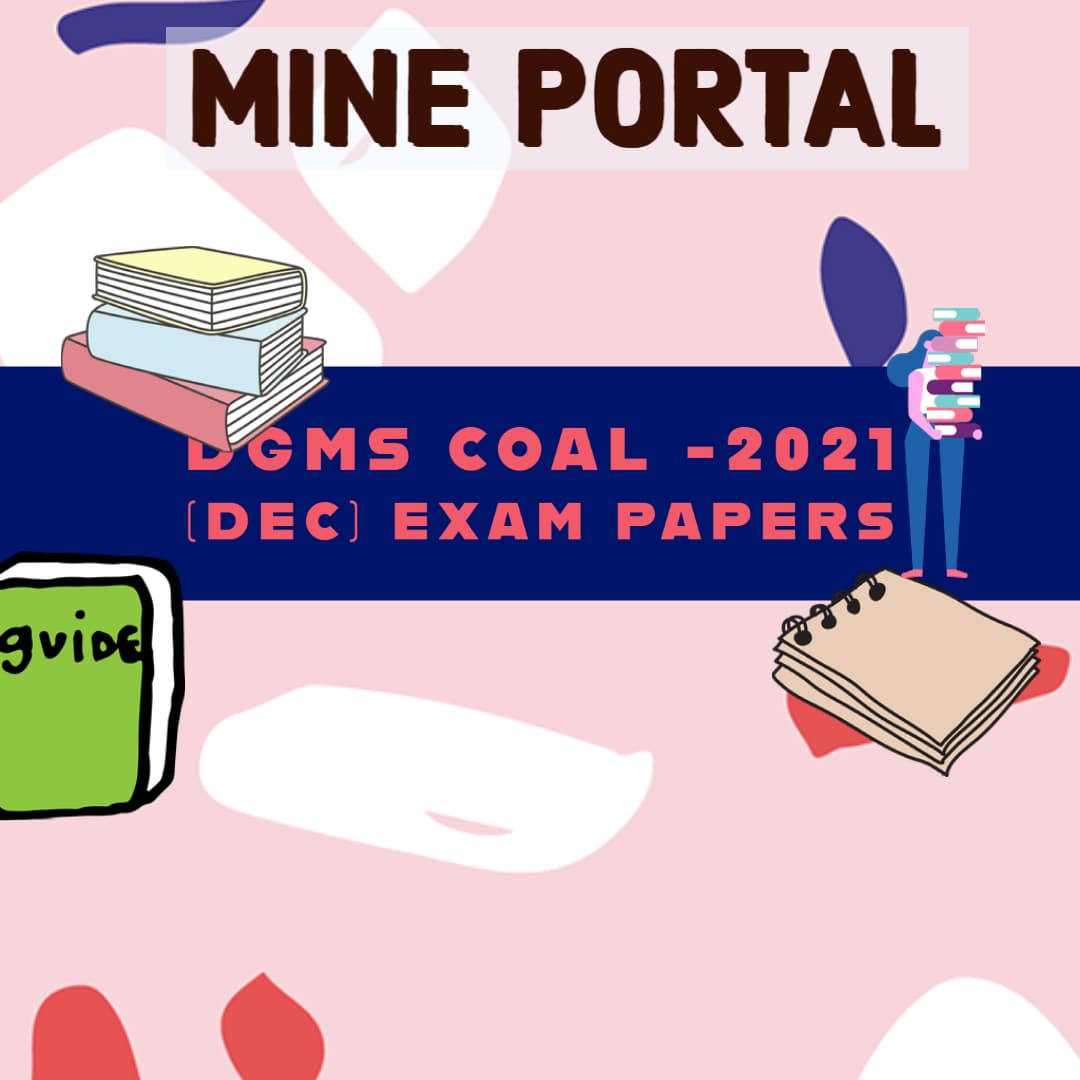 DGMS MINING SIRDAR UNRESTRICTED EXAM PAPER
DGMS MINING SIRDAR UNRESTRICTED EXAM 27 DEC 2021
1) Production of dust shall be reduced by
a) Blunt Bits b) Lack of wster spray
c) Flushing with water d) Use of sharp bits
e) Both (c) and (d)
2) Overall slope of the spoil bank exceeding 30m in height shall not exceed
a) 1m vertical to 1.5m horizontal
b) 1.5m vertical to 1.0m horizontal
c) 1.5m vertical to 1.3m horizontal
d) 1.3m vertical of 1.0m horizontal
e) None of the options
3) Stretcher is used for -
a) For carrying goods
b) For Carrying patient
c) For carrying Coal
d) All of the above
e) None of above 
4) Blasting gallery is used in
a) Thin seam mining
b) Thick seam Mining
c) 1.5m vertical to 1.3m horizontal
d) Hydro Mining
e) None of these
5) Primary use of exploder is to act as a
a) Source of electric supply
b) Ignition linking agent
c) Cross linking agent
d) All of the above
e) Both A & C
6) The ……………… shall carry out his duties in accordance with the provisions of the regulations under CMR, 2017 and of any orders made there under with respect to the transport and use of explosives.
a) Sirdar 
b) Shailer
c) Overman
d) Any competent person
e) None of the above 
7) The best extinguisher for fires involved live electrical equipment is 
a) CO2 type 
b) foam type
c) water-CO2 tpye
d) Soda acid type
e) CO type
8) A vehicle transporting explosives shall not exceed the speed of –
a) 25 Km/hr.
b) 20 Km/hr.
c) 15 Km/hr.
d) 30 Km/hr.
e) None of above
9) Dragline is used in 
a) An Air Craft route
b) A rail route
c) survey tool
d) Open cast Mine
e) None of above
10) Appointment of shot firer is done under Regulation number ____ of CMR 2017
a) 188
b) 189
c) 190
d) 191
e) 192