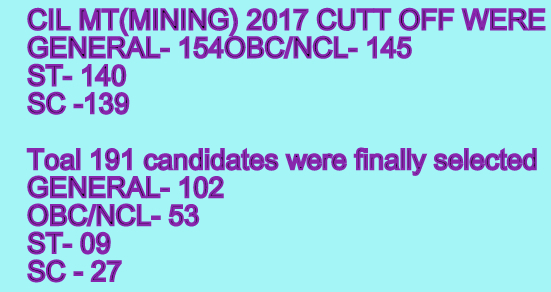 CIL MT (MINING)-2017 CUT OFF
COAL INDIA LTD MANAGEMENT TRAINEE-2017 CUT OFF
In 2017 Selection for the Management Trainee was based on Compute Based Online Test of 200 Marks Followed by Personal Interview of 10 Marks
1. COMPUTER BASED ONLINE TEST: The duration of Computer Based Online Test was of 3 hours (in one sitting) consisting of two papers (Paper-I & Paper-II) of 100 marks each. Paper-I consisted of General Knowledge/Awareness, Reasoning, Numerical Ability and General English.
Paper-II consisted of Discipline related que i.e. Mining 
There were total 200 MCQs with each question carrying 1 mark and there was no penalty for wrong answer. No marks was awarded for un-attempted questions
2. PERSONAL INTERVIEW: Candidates who were shortlisted after online test had to appear for personal interview of of 10 marks.
Total Makrs= Computer Bases Online Test 200 + Personal Interview 10 = 210
CBT(WRITTEN) Cut Off was
GENERAL- 134
OBC -123
ST- 124
SC- 117
CBT (200) + INTERVIEW (10) = 210 MARKS CUT OFF WAS
FIRST LIST:- 
GENERAL- 154
OBC -145
ST- 140
SC- 139
SECOND LIST:-
GENERAL- 152
OBC -145
ST- 139
SC- 139
TOTAL 191 CANDIDATES WERE SELECTED
GENERAL- 102
OBC - 53
ST- 09
SC- 27

---