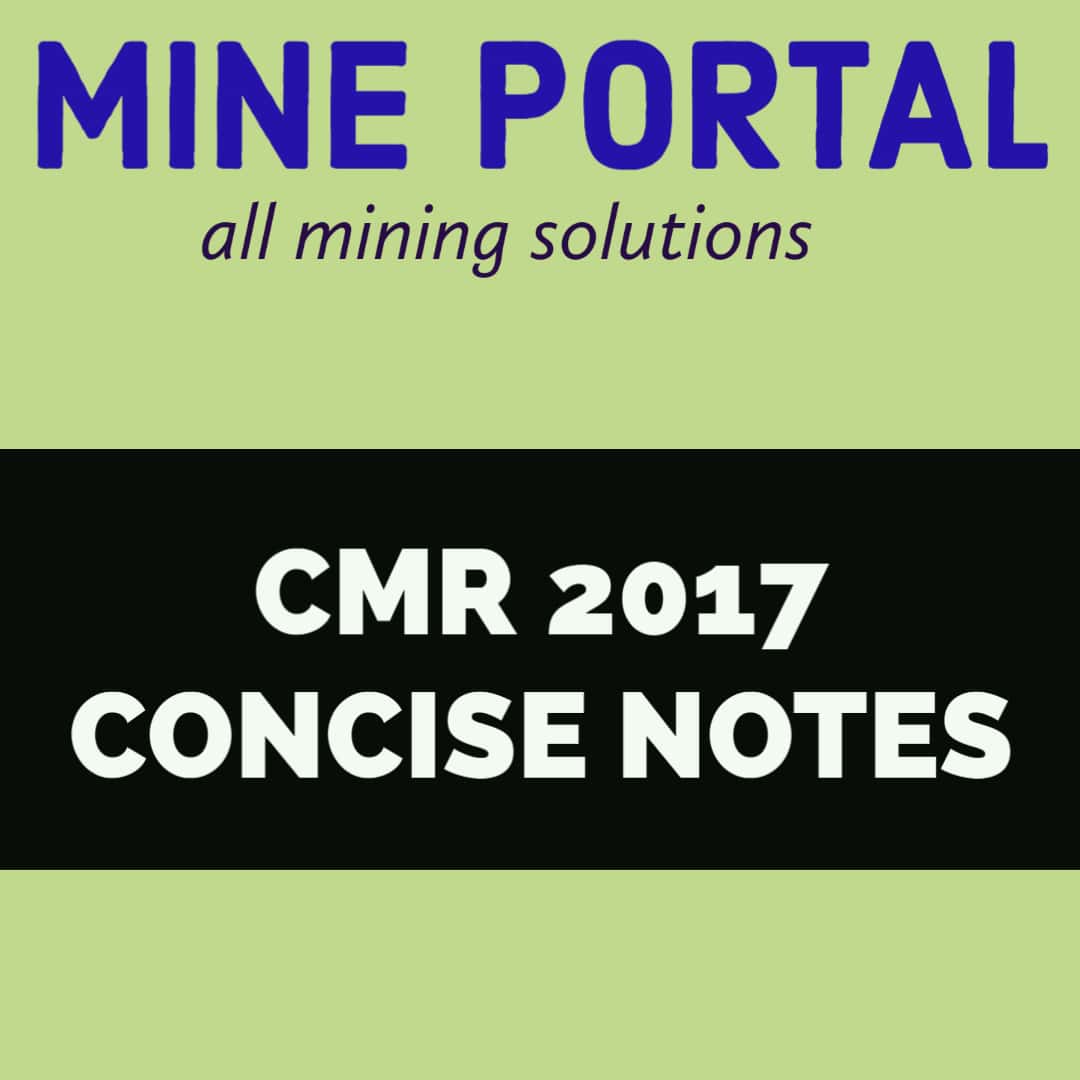 DGMS CIRCULAR/GAZETTE OF INDIA 2018 CMR WITH QUESTIONS
CONDITIONS FOR USE OF AMMONIUM NITRATE FUEL OIL  (Notes Compiled By Shri Animesh dutta & Pyare lal Patel)


(See Regulation 193 of the Coal Mines Regulations 2017)
Storage and Handling:
1. Ammonium nitrate should not be stored without obtaining licence from Chief Controller of explosives.
2. Storage of Ammonium nitrate shall be done as per the provisions of Ammonium nitrate Rule 2012.
3. Transportation of Ammonium nitrate shall be done as per the provision of Ammonium nitrate Rule 2012.
4. No person shall handle or caused to be handled the Ammonium nitrate in mine premises between the hours of sunset and sunrise.
5. No smoking, naked light or open flame should be allowed in the vicinity of ammonium nitrate at site.
6. Before being mixed on a blasting site, the ammonium nitrate should be stacked well clear of the diesel oil supply and there should be no fires within the working
area.
7. As ammonium nitrate will pick up moisture from the atmosphere, care should be taken to prevent bags being torn. Under no circumstances should raked ammonium
nitrate in bags or bulk be loosened by blasting, With explosives.
8. Broken bags of ammonium nitrate should be cleaned up and properly disposed of immediately.
9. The unprocessed ammonium nitrate when transported in vehicle should be carried in a vehicle separate from explosives or combustible materials (including diesel
oil).
10. Vehicles used for the transport of ammonium nitrate should be in a safe operating condition and should be driven by competent, licensed drivers.
11. Any tarpaulin or other material used to cover the load of ammonium nitrate should be fire-resistant.
12. (i) Semi-trailer or full trailer vans may be used for the on-site transportation of the ammonium nitrate fuel oil compositions, and for temporary storage of the same.
Such vans should be kept in isolated locations while loaded.
(ii) The vans should be well ventilated and locked except during times of placement and removal of stocks of blasting agents.
(iii) No smoking and no open flames should be permitted in or near the vans containing blasting agents.
(iv) The area surrounding the vans (when used as temporary storage), not less than nine (09) metres in all directions should be kept free of rubbish, dry grass or other
materials of combustible nature.
(v) Not more than one day's production of field mixed ammonium nitrate should be temporarily stored in the vans at any one time.
Mixing etc.
13. The mixing or impregnating of ammonium nitrate, or a non-explosive mixture of ammonium nitrate (with other substances), with diesel oil should be carried out at
or close to the shot holes before immediate use only.
14. No liquid hydrocarbon fuels with higher volatile than No.2 diesel fuel should be used. The most sensitive mixture of ammonium nitrate/diesel oil contains 2% oil,
while a 5-6% mixture gives the maximum power. Percentage of oil in excess of 10 tends to lower sensitiveness. Excess oil should be avoided.
15. No person should smoke when mixing, carrying, handling or using the ANFO explosive or when near any person carrying on such work.
16. No person when mixing, charging or handling the explosive should allow any naked light or fire to be within 15 metres of the shot hole or the explosive.
17. The area surrounding the place of mixing for a distance of at least 15 metres should be kept free of rubbish, dry grass or other combustible materials.
18. All detonators, priming cartridge, and cordtex should be kept in secure receptacles at a safe distance from the explosives until actually required for use.
19. Not more than the quantity of mixture required for immediate use should be prepared. If for unforeseen circumstances explosive in excess of that required for immediate
use is mixed, it should be packed in inner and outer packages and stored in a magazine duly approved by the Licensing Authority under the Indian Explosive
Act. The inner packages must prevent the escape of the explosive or oil. A suitable package is a thick polythene bag. The outer package can be of wood, soil fibre
board or aluminium, but not of from or steel.
20. A suitable container in the form of portable wooden box should be used for premixing near the shotholes to prevent accidental contamination by grit or other
foreign matter as such a contamination may be dangerous. A suitable size for mixing upto 100 kg. At a time is 1.5 metres x 1.0 metre x 0.5 metre in depth.
Shovels of similar material should only be used for the mixing, and no metallic shovel should be used. Preferably the mixing should be done by hand using rubber
gloves. If necessary, a portable shelter may be used when mixing during inclement weather.
21. The mixing should not take place in the building where the bulk ammonium nitrate is stored.
22. When the mixture has been made, it should be kept in water proof bag until the time of use. The bags should be kept separately from all other materials, and no
smoking, naked lights or open fires should be permitted within a distance of at least 15 metres there from.
23. When the mixing is done in a BULK MIXING DELIVERY SYSTEM, the following precautions shall be taken:
• (i) Bulk Mixing and Delivery shall be done in a vehicle duly licensed by Chief Controller of Explosives.
• (ii) The operations of mixing of AN and FO and its loading charging etc. shall be carried out under the guidance of the technical service engineer of
the explosive manufacturer.
• (iii) All conditions stipulated by the Chief Controller of Explosives for granting license for use of BMD vehicle shall be complied with.
• (iv) The BMD vehicle shall be in a safe operating condition and shall be driven b a competent licensed driver.
• (v) The vehicle shall be kept in an isolated location while loaded.
• (vi) No smoking and no open flames shall be allowed within a radius of 60 m of the vehicle.
• (vii) The area surrounding the BMD vehicle, not less than 15 m in all directions shall be kept free of rubbish, dry grass or other materials of
combustible nature.
24. The prepared mixture should be carried only in wooden or similar containers, and not in a metallic container.
25. Discarded empty ammonium nitrate bags should be disposed of daily in a safe manner such as by burning in an isolated area, burying and so forth.
26. Only the necessary minimum number of persons should be allowed to be present at or within 15 metres of the premises where the process of mixing is being done.
27. The cap sensitivity of the field-mixed ammonium nitrate/fuel oil mixture should be tested at regular intervals. (The test is as follows: Insert an electric detonator in the
cartridge, sack or other package of mixed fuel/ammonium nitrate (or any other approved composition) placed on soft grount in an isolated area provided with an
amply safe guarded spot for the shotfirer and others, and fire the detonator. A crater in the ground indicates a cap-sensitive mixture).
Charging and Firing:
28. As soon as is possible after the mixing of ammonium nitrate with diesel oil, the holes to be blasted should be charged and fired, and all normal practices of
charging and firing of explosives as laid down in the Regulations should be observed.
29. The ammonium nitrate fuel oil (ANFO) mixture may either be poured free in dry conditions of use, or it may be packaged in polyethylene bags for use in wet holes.
30. When poured free, a suitable funnel of fibre board or wood may be inserted over the shot hole for charging the mixture, and a wooden stemmor may be used to aid
the flow.
31. Since the mixture is not as sensitive as conventional high explosive, detonating fuse can not be relied upon to initiate it. Primer cartridges of high explosive equal
to 5 to 25% of the total charge should therefore be used. (A small diameter hole will require a high proportion by weight of the initiating charge). All initiating and
booster charges should, as far as possible, be of the non-nitro-glycerine type. In holes of 0.1 metre (4" dia) diameter or less only one line of detonating fuse
should pass through the mixture.
32. Before entering a blast area, the Overman / Shotfirer and other personnel should make certain that it is completely free of visible reddish brown fumes, which is an
indication of highly toxic concentrations of nitrogen dioxide gas. Where fumes are observed after blasting, an adequate period of time should be
allowed for them to disperse before returning to the blasting area.

Misfires:
33. Precautions for misfires should be taken in accordance with the provisions of the Regulations in this regard.
Fighting Fires Involving Explosives:
34. If high explosives are in the same premises where AN or ANFO fire is underway first attempt should be to remove high explosive from the danger area. If this is not possible,
the entire area may be evacuated in anticipation of detonation and the fire should be allowed to burn.Underground Applications:
35. ANFO should not be used in underground coal mines.Hazard of Static Electricity:
36. In pneumatic loading of small dia. Holes, premature initiation of priming charge is quite possible. For this pneumatic loading equipment should be properly grounded. The
hose connecting the loading machine to the charging hole should be semi-conductive, having a total resistance low enough to permit dissipation of static electricity and high
enough to limit the flow of stray electric currents to safe level. Wire countered hose should not be used because of the potential hazard of stray electric currents. On the basis
of available information it appears that semi-conductive hose having a resistance of not less than 5000 ohms per 0.3 m. with no more than 2 megohms for the total length is
satisfactory.
37. The entire operations of mixing of ammonium nitrate and diesel oil on-site near the place of its use, and its charging and blasting in the shot holes should be placed under the
overall charge of a competent person, holding a managers certificate or Foreman's/ Overman's Certificate and appointed in writing by the Manager for the purpose.
CLICK ME TO DOWNLOAD COMPLETE PDF OF DGMS CIRCULAR 2018 IN RESPECT TO COAL MINE REGULATIONS