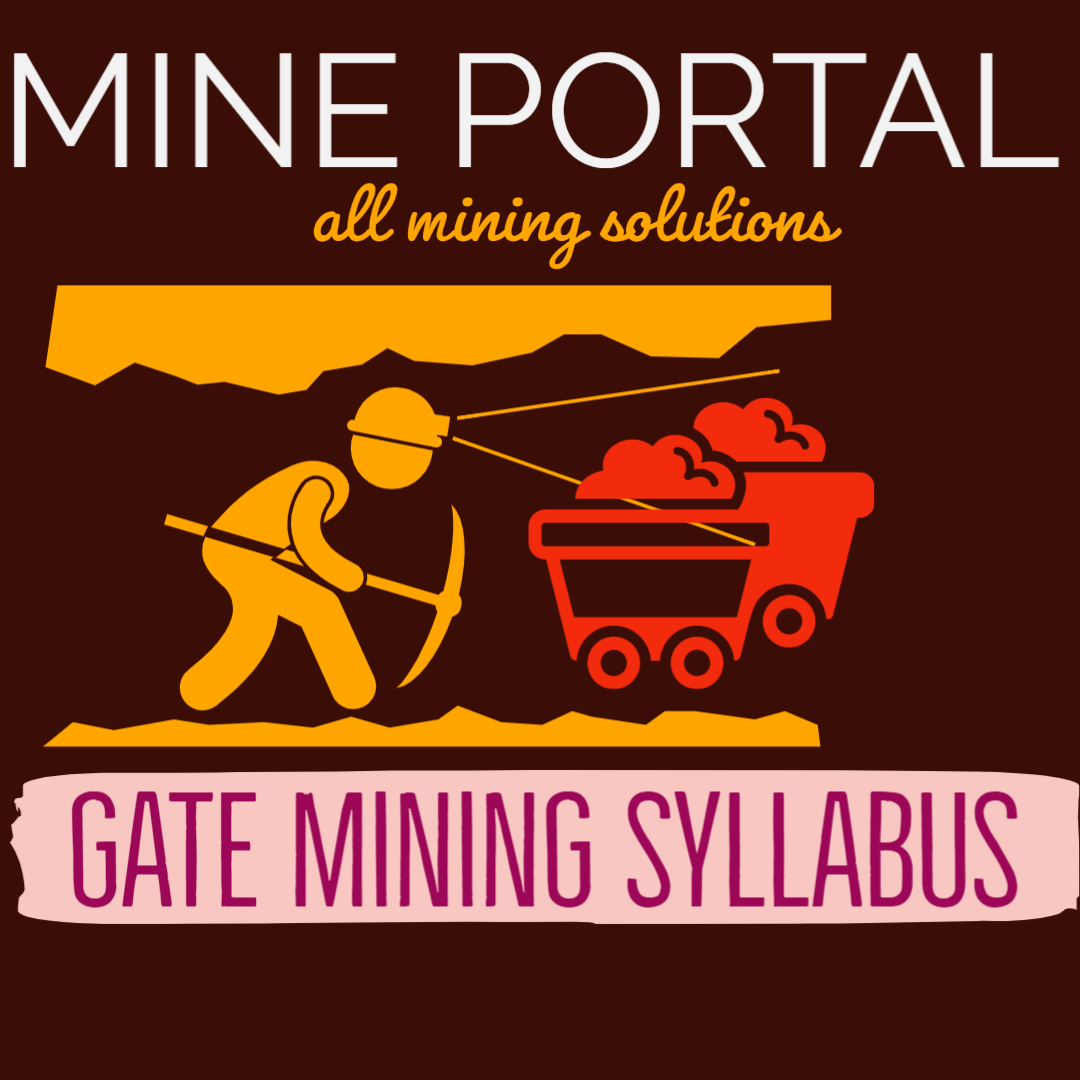 GATE MINING-2017 SYLLABUS
GATE MINING-2017 SYLLABUS

General Aptitude (GA)
Verbal Ability: English grammar, sentence completion, verbal analogies, word groups,instructions, critical reasoning and verbal deduction.
Numerical Ability: Numerical computation, numerical estimation, numerical reasoning and data interpretation.
CORE SECTION
Section 1: Engineering Mathematics
Linear Algebra: Matrices and Determinants; Systems of linear equations; Eigen values and Eigen vectors.
Calculus: Limit, continuity and differentiability; Partial Derivatives; Maxima and minima; Sequences and series; Test for convergence; Fourier series.
Vector Calculus: Gradient; Divergence and Curl; Line; surface and volume
integrals; Stokes, Gauss and Green's theorems.
Diferential Equations: Linear and non-linear first order ODEs; Higher order linear ODEs with constant coefficients; Cauchy's and Euler's equations.
Probability and Statistics: Measures of central tendency; Random variables; Poisson, normal and binomial distributions; Correlation and regression analysis.
Numerical Methods: Solutions of linear algebraic equations; Integration of
trapezoidal and Simpson's rule; Single and multi-step methods for differential
equations.
Section 2: Mine Development and Surveying
Mine Development: Methods of access to deposits; Underground drivages; Drilling methods and machines; Explosives, blasting devices and practices.
Mine Surveying: Levels and leveling, theodolite, tacheometry, triangulation;Contouring; Errors and adjustments; Correlation; Underground surveying; Curves; Photogrammetry; Field astronomy; EDM and Total Station; Introductory GPS .
Section 3: Geomechanics and Ground Control
Engineering Mechanics: Equivalent force systems; Equations of equilibrium; Two dimensional frames and trusses; Free body diagrams; Friction forces; Particle kinematics and dynamics; Beam analysis.
Geomechanics: Geo-technical properties of rocks; Rock mass classification; Instrumentation and stress measurement techniques; Theories of rock failure; Ground vibrations; Stress distribution around mine openings; Subsidence; Rock bursts and coal bumps; Slope stability.
Ground Control: Design of pillars; Roof supporting systems; Mine filling.
Section 4: Mining Methods and Machinery
Mining Methods: Surface mining: layout, development, loading, transportation and mechanization, continuous surface mining systems; Underground coal mining: bord and pillar systems, room and pillar mining, longwall mining, thick seam mining methods; highwall mining; Underground metal mining: open, supported and caved stoping methods, stope mechanization, ore handling systems.
Mining Machinery: Generation and transmission of mechanical, hydraulic and pneumatic power; Materials handling: haulages, conveyors, face and
development machinery, hoisting systems, pumps, crushers.
Section 5: Surface Environment, Mine Ventilation, and Underground Hazards
Surface Environment: Air, water and soil pollution : Standards of quality, causes and dispersion of contamination, and control; Noise; Land reclamation.
Mine Ventilation: Underground atmosphere; Heat load sources and thermal environment, air cooling; Mechanics of air flow, distribution, natural and mechanical ventilation; Mine fans and their usage; Auxiliary ventilation; Ventilation planning; Ventilation networks.
Subsurface Hazards: Mine Gases. Underground hazards from fires, explosions, dust and inundation; Rescue apparatus and practices; Safety in mines; Accident data analysis; Mine lighting; Mine legislation; Occupational safety.
Section 6: Mine Economics, Mine Planning, Systems Engineering
Mine Economics: Mineral resource classification; Discounted cash flow analysis; Mine valuation; Mine investment analysis; Mineral taxation.
Mine Planning: Sampling methods, practices and interpretation; Reserve estimation techniques: Basics of geostatistics and quality control; Optimization of facility location; Work-study.
Systems Engineering: Concepts of reliability; Reliability of simple systems;
Maintainability and availability; Linear programming, transportation and
assignment problems; Network analysis; Inventory models; Queueing theory; Basics of simulation.
Sample Questions
Verbal Ability
Q.1. Choose the appropriate answer to complete the following sentence:
To those of us who had always thought him timid, his --------- came as a surprise.
(A) intrepidity (B) inevitability (C) inability (D) inertness
Ans. (A)
Q.2. Choose the appropriate answer to complete the following sentence:
Medicine is to illness as law is to _________
(A) discipline (B) anarchy (C) treason (D) etiquette
Ans. (B)
Q.3. Read the following paragraph :
"The ordinary form of mercury thermometer is used for temperature ranging from –40oF to 500oF. For measuring temperature below –40oF, thermometers filled with alcohol are used.These are, however, not satisfactory for use in high temperatures. When a mercury thermometer is used for temperature above 500oF, the space above the mercury is filled with some inert gas,usually nitrogen or carbon dioxide, placed in the thermometer under pressure. As the mercury rises, the gas pressures is increased, so that it is possible to use these thermometers for temperatures as high as 1000oF."
With what, besides mercury, would a thermometer be filled if it was designed to be used for measuring temperature of about 500oF?
(A) Pyrometer (B) Inert gas (C) Iron and brass (D) Gas
Ans. (B)
Q.4. The cost of manufacturing tractors in Korea is twenty percent less than the cost of manufacturing tractors in Germany. Even after transportation fees and import taxes are added, it is still cheaper to import tractors from Korea to Germany than to produce tractors in Germany.
Which of the following assertions is best supported by the above information?
(A) Labour costs in Korea are twenty percent below those in Germany.
(B) Importing tractors into Germany will eliminate twenty percent of the manufacturing jobs in Germany.
(C) The costs of transporting a tractor from Korea to Germany is more than twenty percent ofthe cost of manufacturing the tractor in Korea.
(D) The import taxes on a tractor imported from Korea to Germanyis less than twenty
percentof the cost of manufacturing the tractor in Germany.
Ans. (D)
Numerical Ability
Q.5. In a survey, 3/16 of the people surveyed told that they preferred to use publictransport
while commuting daily to office. 5/8 of the people surveyed told that theypreferred to use their own vehicles. The remaining 75 respondents said thatthey had no clear preference. How many people preferred to use publictransport?
(A) 75 (B) 100 (C) 125 (D) 133
Ans. (A)
---