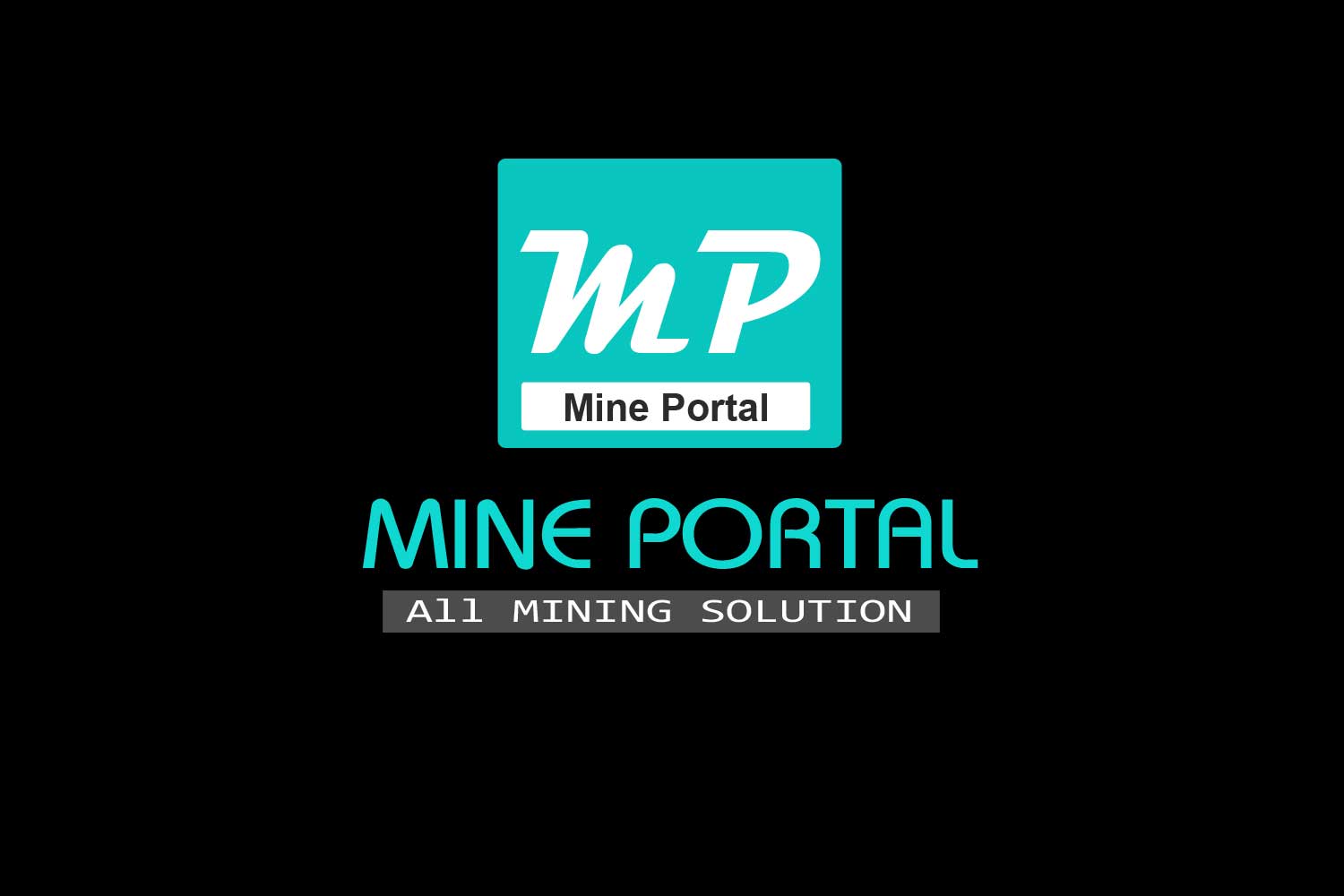 TYPE OF FIRES & FIRE EXTINGUISHER
Fire Extinguisher is an active fire protection device which is used to control or extinguish fires in emergency situations. Fire extinguishers are of the following types - 
Foam extinguishers: They are most suited to extinguishing liquid fires such as petrol or diesel and are more versatile than water jet extinguishers because they can also be used on solids such as wood and paper. The foam extinguishes liquid fires by sealing the surface of the liquid, preventing flammable vapor from reaching the air, and starving the fire of fuel. They are not suitable for use on free-flowing liquid fires. Foam extinguishers cannot be used to extinguish an electrical fire.
Dry powder extinguishers: They can be used on fires involving electrical equipment however, they do not cool the fire so it can re-ignite. Powder extinguishers can also create a loss of visibility and may create breathing problems. They are not generally recommended for use inside buildings unless there is absolutely no alternative.
Carbon dioxide extinguishers: CO2 extinguishers are ideal for places with a lot of electrical equipment such as offices or server rooms because they are safe to use on fires involving electrical apparatus. Carbon dioxide extinguishers do not leave any residue, unlike a foam extinguisher. They can also be used on fires, those involving flammable liquids such as paraffin or petrol. CO2 extinguishers work by smothering the fire and cutting off the supply of air.
Soda acid extinguishers: Soda acid fire extinguisher is based on the principle of cooling of fire and increasing carbon dioxide. It throws a mixture of carbon dioxide and water on fire. The extinguisher contains a glass container of ductile sulphuric acid supported in a metallic container filled with a sodium bicarbonate solution. When the extinguisher plunger is pushed in, the acid container breaks, and carbon dioxide and water are produced.
Additional Information
V arious classes of fire extinguishers are - 
Class A :
This is suitable for cloth, wood, rubber, paper, various plastics, and regular combustible fires. 
Class A fire extinguishers are designed to put out fires that have started from household items that are made out of materials that will quickly ignite. These materials include paper products and furniture made from wood. 
The Type A fire extinguisher contains water. The letter A stands for ash. A fire that burns from household items will leave ashes. 
Class B :
This is suitable for grease, gasoline or oil-based fire is usually filled with a dry chemical. 
Class B fire extinguishers are used to put out fires that have started from highly flammable liquids. These liquids include any type of lacquer or oil-based paint products, paint thinners and lacquer thinners, oils, and gasoline. 
The letter B represents a barrel. Most of these chemicals are transported in a barrel-like container.
Class C :
This is suitable for electrical fires caused by appliances, tools, and other plugged-in gear. It can contain either halon or CO2. Halon is expensive and depletes the ozone layer and its use is restricted. 
Class C fire extinguishers are used to put out fires that have started from an electrical source. The source could be from appliances, lighting, or your electrical system.
This extinguisher uses carbon dioxide to put out the fire. Carbon dioxide will basically remove the oxygen from the air around the fire. Carbon dioxide is also used in some Type B extinguishers. 
Class D:
This is used for water-reactive metals such as burning magnesium and will be located in factories using such metals. 
Class D extinguishers are used to put out fires on metals that are capable of burning. These types of metals are found in the manufacturing industry only. This extinguisher uses a dry powder to put out the fire.
Class K :
This contains a special purpose wet chemical agent for use in kitchen fires and deep fryers to stop fires started by vegetable oils, animal fats, or other fats started in cooking appliances.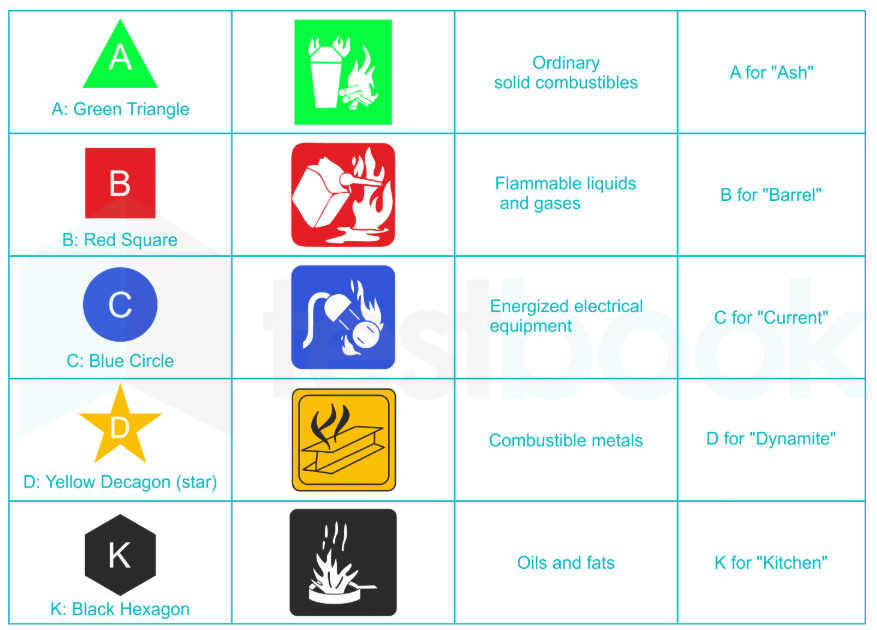 To fight the different classes of fires, there are different types of fire extinguishers. Each has its own characteristics, capabilities, and limitations.
Three main types of portable fire extinguishers include:
Water extinguishers
Carbon Dioxide (CO2) extinguishers
Dry Chemical extinguishers
Carbon Dioxide (CO2) Extinguishers:
The extinguishing media is pressurized CO2. Use to put off Electrical fire.
When used for Class B and C fires, the CO2 covers the fuel by blanketing it and stops the reaction at the surface by displacing oxygen.
Be thorough when using a CO2 extinguisher. It has a moderate spray range and lasts only 10 to 30 seconds.
A hard horn attached to the end of the spray tube helps to contain and aim the spray at the target area.
Do not use CO2 extinguishers in confined spaces as CO2 can displace the oxygen in the air, making breathing difficult.
Only use in a confined space if workers have appropriate respiratory protection.
Do not use CO2 extinguishers for Class A fires because the fire may continue to smolder and re-ignite after the CO2 disperses.
Dry Chemical Extinguishers:
Dry chemical extinguishers are the most common and available in few types.
These extinguishers will be marked for the classes they are designed to extinguish (e.g., ABC type extinguisher will put out Class A, B, and C fires).
The extinguishers discharge a blanket of fine powder which creates a break between the fuel and the oxygen in the air.
The powder also works to break the chemical reaction. Be accurate when using as they have a short to moderate spray range and last only 10 to 25 seconds.
Be cautious of the residue after using dry chemical extinguishers. The residue can damage motors, computers, and other electrical equipment.​
Additional Information 
---