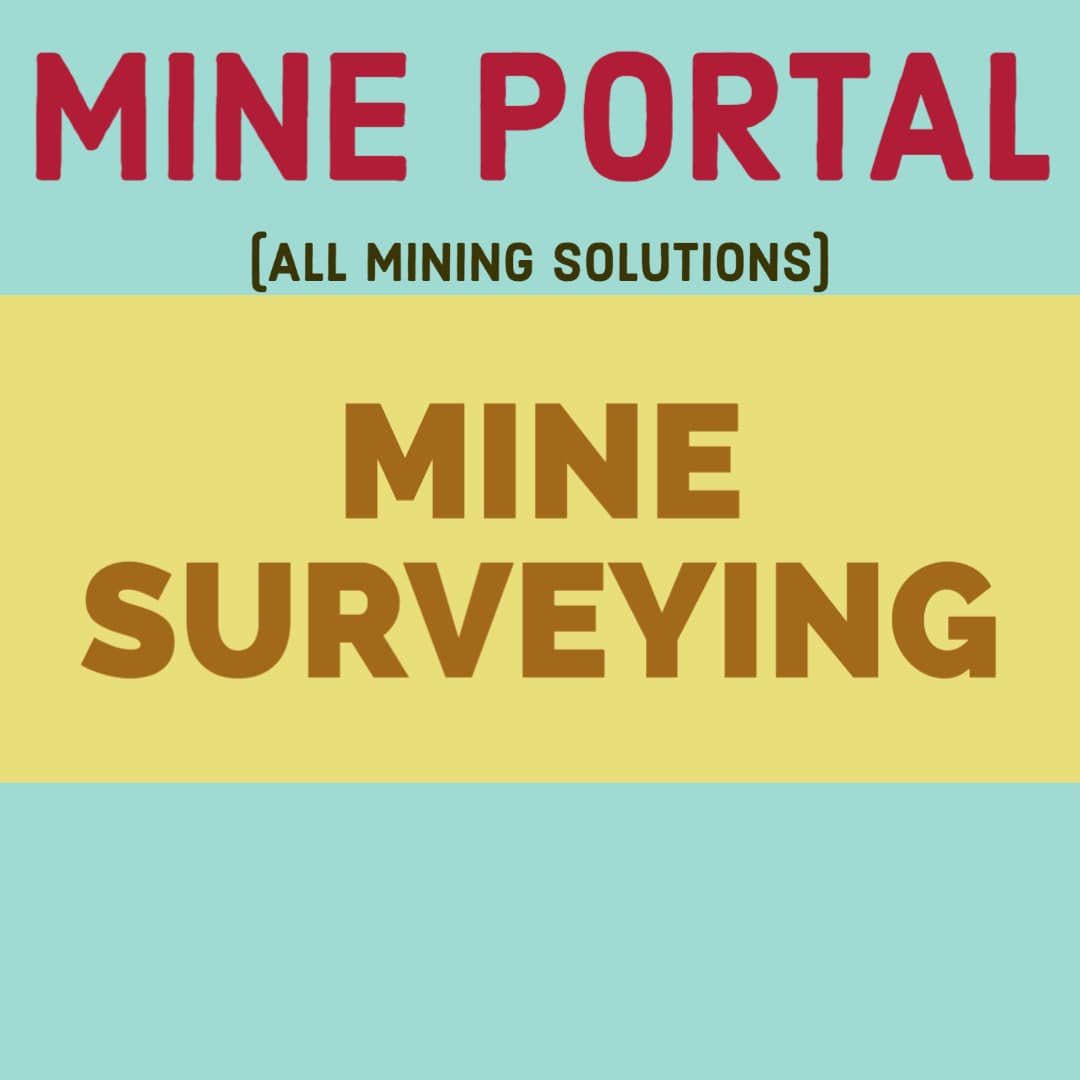 FMU-MINE SURVEYING DGMS EXAM SYLLABUS
SYLLABUS FOR EXAMINATION FOR FIRST CLASS MANAGER'S CERTIFICATE OF COMPETENCY
(Under Metalliferous Mines Regulations, 1961)
MINE SURVEYING

Linear measurement:- Instruments for measuring distance and ranging, units of measurement in surveying.

EDM:- Principles of measurements; types; correction and selection of instrument.

Angular measurement:- Prismatic compass; bearing of lines; local attraction; magnetic declination.
Dials; loose and fast needle surveying; plan table surveying and micro-optic alidade.

Theodolite:- Modern micro-optic theodolites; measurement of horizontal and vertical angles; theodolite traversing; traverse calculation; computation of coordinates; adjustment of traverse; temporary and permanent adjustment; tacheometry.

Lavelling:- Lavelling instruments; types of leveling; characteristics and uses of contours; methods of contouring; booking and reduction methods; shaft depth measurement; temporary and permanent adjustment of levels; problems solving.

Controlled surveys:- Triangulation; trilateration; application of GPS and Total Station in mine surveying.

Field astronomy:- Astronomical terms; determination of true bearing by equal altitude method; Gyro theodolite; principle and determination of Gyro north.

Correlation:- Methods of correlation surface and underground including Gyro-Laser combination.

Development and stone surveys:- Surveys of flat, moderately and steeply inclined and vertical workings; control of direction and gradient in drifts, tunnels, raises and winzes; traversing along steep working with or without auxiliary telescopes; 3D laser profiling of bench walls in opencast working.

Theory of errors and adjustments: Causes and classification of errors; inclines of precision; laws of weight; propagation and adjustment of errors; adjustment of triangulation figures.

National grid: Map projection Cassini Lambert's polyconic and universal transfers Mercator; transformation of coordinates.

Geodesy:- Geod, spheroid and ellipsoid, geocentric, geodetic and astronomical coordinates, orthometric and dynamic heights.

Astronomy:- Astronomical triangle; conversion of time systems and precise determination of azimuth by astronomical methods.

Photogrammetry:- Introduction; scale of a vertical photograph; photographs versus maps; application of photogrammetry in mining.

Area and volume calculation:- Different methods and their limitations; earth work and building estimation; laying out of rail and haul road curves, surface and underground.

Dip, strike, fault and outcrop problems, borehole surveying and calculations.

Types of plans and their preparation, care, storage and preservation; legislation concerning mine plans and sections; duties and responsibilities of surveyors.

Application of computers in mine surveying and preparation of plans.

CLICK ME TO DOWNLOAD THE SYLLABUS FOR FIRST CLASS UNRESTRICTED MINE SURVEYING

---