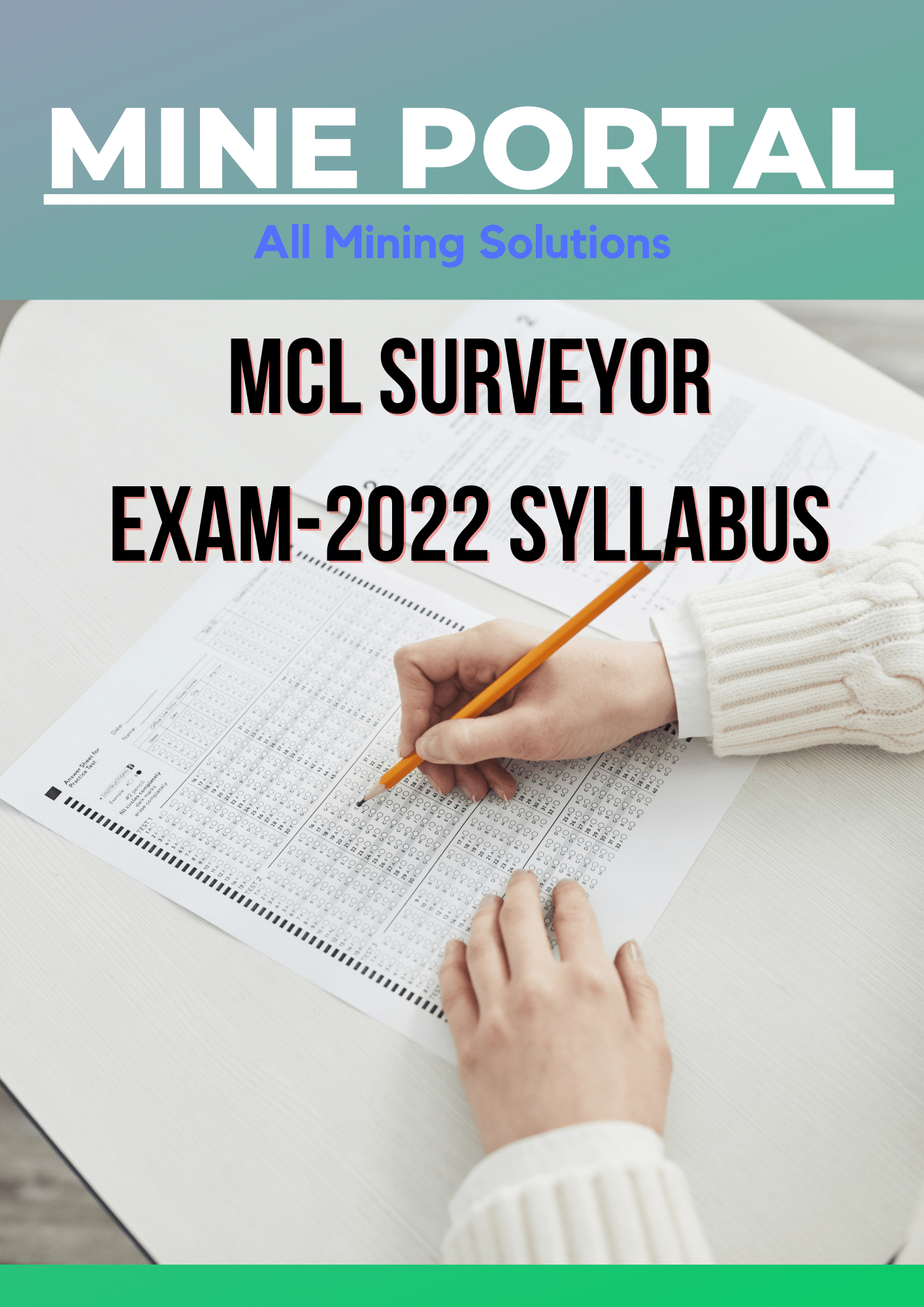 MCL MINE SURVEYOR EXAM-2022 SYLLABUS
MAHANADI COALFIELD LTD MINE SURVEYOR EXAM-2022 SYLLABUS
PART -A  20 Questions  20 Marks
GENERAL ASSESSMENT
i. General Knowledge and Current Affairs
ii. Reasoning & Mathematical Ability
iii. Awareness about Coal Industries
PART -B   80 Questions  80 Marks
DOMAIN KNOWLEDGE
1) Linear and Angular Measurements.
2) Area & Volume calculations
3) Theodolite traversing. Levelling.
4) Trigonometry & Rectangular Co-ordinate calculations.
5) True North determination.
6) Triangulation.
7) Topographic Survey.
8) Tacheometry Survey.
9) Survey Adjustments & Theory of Errors.
10) Contouring.
11) Underground Mine Surveys & Opencast Mine Surveys.
12) Correlation of underground & Surface Surveys. Subsidence Survey.
13) Surveys for Construction and Development Purpose: Responsibilities of Survey Department at the Mine Construction Phase. Setting out Geometrical Elements. Setting out Direction of Workings. Setting out Rail Curves on Surface & Underground. Surveys during Drivage by Approaching Headings.
14) Dip, Strike and Fault Problems.
15) Coal Heap Measurement. Overburden Measurement.
16) Duties & Responsibilities of a Surveyor as per Coal Mines Regulations 2017. PLANS: Types of Plans Statutorily required as per Coal Mines Regulations 2017. Accuracy in Underground & Surface Surveying as per the Statute. Plan Accuracy. Knowledge of various provisions under Coal Mines Regulations 2017 and Circulars of DGMS regarding Mine Surveying.
17) Total Station, DGPS, 3DTLS & Drone surveying in Opencast Mines.
18) Application of Computers & Software in Mine Surveying (SURPAC, LISCAD etc.)
19) Elementary Knowledge in –Remote Sensing & GIS, Geomatics.
---