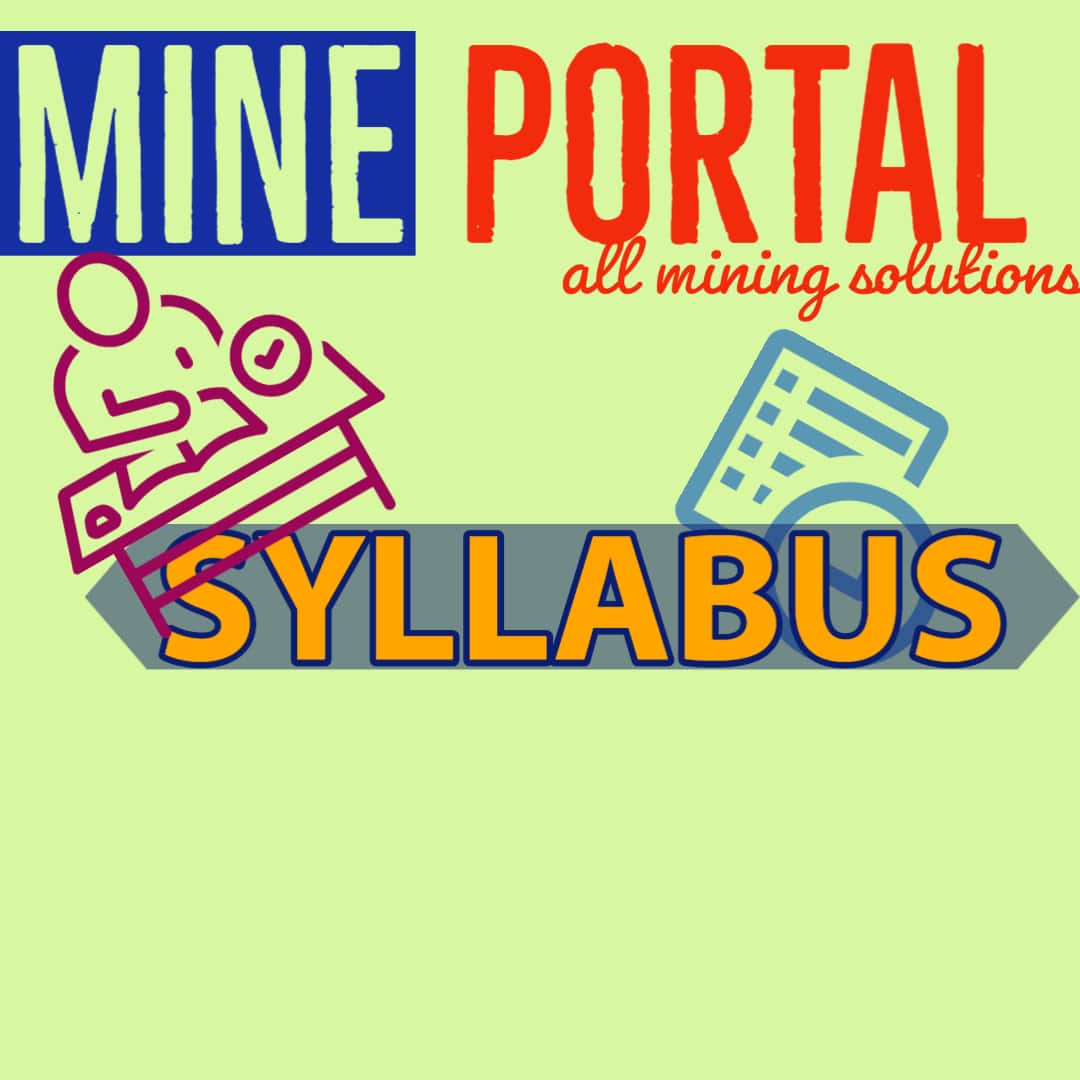 NCL-2022 MINING SIDAR EXAM SYLLABUS & EXAM PATTERN
NORTHERN COALFIELD LTD MINING SIRDAR EXAM 2022 EXAM SYLLABUS & EXAM PATTERN
Computer Based Online Test (CBT) will be conducted separately for each post. The CBT will be of
100 Marks for 90 minutes duration (in one sitting), consisting of two sections (Section - 'A' & Section - 'B')
Each question will carry 1 mark and there is no penalty for wrong answer.
Section -A
(1-70 questions, MCQ of one mark each)-70 Marks
1. Opencast coal mine working; bench formation, dump management and haul road design.
2. Shot firing and transport and use of explosives in mines.
3. Safety issues in opencast workings, transport of material, working at heights, marching and
deployment of heavy machines etc.
4. Preliminary idea about reclamation operation in opencast mining.
5. Preliminary understanding about safety management plan.
6. Provisions of the Coal Mines Regulations, 2017, Rules and Bye-laws made under the Mines Act, 1952,
relating to the safety of persons employed in Mines in general and to the duties of Sirdars and Shot
firer's in particular.
7. Writing of reports. Etc. as per the courses offered by the Recognized Institutes.
Section -B
(1-30 questions, MCQ of one mark each)-30 Marks
This section is common for all Posts, will carry 30 questions belonging to:-
1. General Knowledge -About India and its international relations, General Science etc.
2. General Awareness - About Sports, Defense, Books, Prizes, About Indian democracy etc.
3. Reasoning, Verbal & Mental Ability - Synonym & Antonym (Hindi/English), Grammar, Relationship etc.
4. Quantitative aptitude - Work relationship, Profit &Loss, Speed etc.
EXAM PATTERN
Selection of candidates in merit panel will be subjected to securing of cut-off marks (Minimum Qualifying marks)in the Computer Based Online Test for concerned post with respect to their
category as mentioned below and fulfilling prescribed eligibility criteria:


---